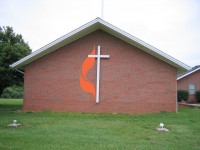 Christian Heights is making an effort this Lenten season to upgrade the cross on the outside of our building. To support this I'm asking all of my visitors to read the details about what we want to do.
Total to date: $650!
Sermon: Only Time Will Tell (EJ Hatton)
MP3: sermon-e.hatton-Mar25-2012
3:16 For this is the way God loved the world: He gave his one and only Son, so that everyone who believes in him will not perish but have eternal life. 3:17 For God did not send his Son into the world to condemn the world, but that the world should be saved through him. 3:18 The one who believes in him is not condemned. The one who does not believe has been condemned already, because he has not believed in the name of the one and only Son of God. 3:19 Now this is the basis for judging: that the light has come into the world and people loved the darkness rather than the light, because their deeds were evil. 3:20 For everyone who does evil deeds hates the light and does not come to the light, so that their deeds will not be exposed. 3:21 But the one who practices the truth comes to the light, so that it may be plainly evident that his deeds have been done in God.
Prayers
Added Vicki and John Bravard
Added Jim Mowson (loss of wife)
Added Bobby Ray Morris (health)
Added Family of Cissy Adkins
Added Krystal and Will (severe car wreck)
Added Tommy ?????
Added Ricky Brummett