Sermon: The Effects of Hurtful Words (EJ Hatton)
MP3: sermon-e.hatton-Jul7-2013
18:19 A relative offended is harder to reach than a strong city, and disputes are like the barred gates of a fortified citadel. 18:20 From the fruit of a person's mouth his stomach is satisfied, with the product of his lips is he satisfied. 18:21 Death and life are in the power of the tongue, and those who love its use will eat its fruit.
Prayers
Added Amy Dunn (chronic back pain)
Added Megan Cline
Added Laverne Smith
Added Family of Bill Joiner
Added Family of Jerry Sanderson
Added Family of Mrs. Art Smith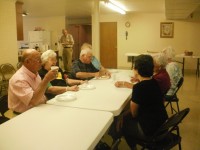 The wedding shower for Eric and Amy went very well. Thank you to Lou Willis and Cindy Fleming for organizing it and to everyone that brought gifts. Photos are below.
Sermon: Basics of an Authentic Christian (EJ Hatton)
MP3: sermon-e.hatton-Jun30-2013
22:34 Now when the Pharisees heard that he had silenced the Sadducees, they assembled together. 22:35 And one of them, an expert in religious law, asked him a question to test him: 22:36 "Teacher, which commandment in the law is the greatest?" 22:37 Jesus said to him, "'Love the Lord your God with all your heart, with all your soul, and with all your mind.' 22:38 This is the first and greatest commandment. 22:39 The second is like it: 'Love your neighbor as yourself.' 22:40 All the law and the prophets depend on these two commandments."
Prayers
Added Family of Jonathan Smithson
Added Family of Linda Grasty