Christian Heights United Methodist Church was supposed to have been built on a different site on North Drive. Mr. and Mrs. Emmett Hayden gave three acres of land across from the Hopkinsville Community College and two more acres were bought for $4,000. The deed was recorded on April 14, 1964. In 1966 the community was looking for land for the Animal Diagnostic Lab across from the college. Mr. Waldo Adams agreed to trade five acres of land on a knoll up the street for the land owned by Christian Heights and give the church $1,000. That deed was recorded on July 11, 1966.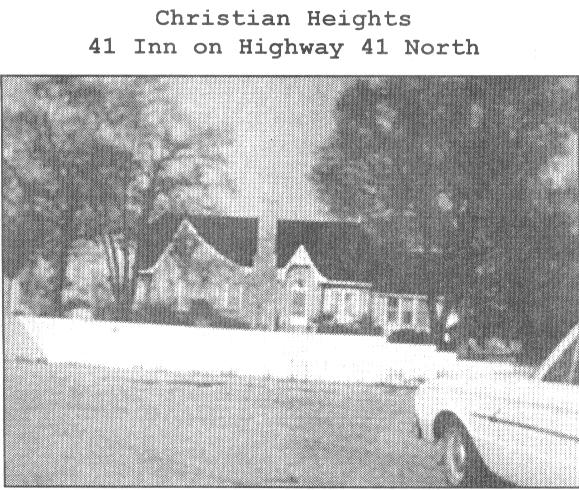 The Louisville Annual Conference of 1964 with Bishop W. C. Gumm presiding, assigned Rev. Jack Baird to the new church to be organized. A temporary church and parsonage was a rented building, the old 41 Inn on Highway 41 North. The first worship service was in September 1964 with 25 people attending. In November Rev. Baird was transferred to an organized church when their pastor died. The District Superintendent, Rev. G. P. Robertson, asked Rev. Fred Glover, a Christian County native who had retired at the 1964 Annual Conference and moved back home, to pastor the church. Rev. Glover and his wife, Lillian, were building a home on Sanderson Drive.
Rev. Glover conducted the first service in the 41 Inn location on November 1, 1964. Rev. Robertson led the service that established the new Methodist church. The group moved to the Dawson Road location where they met until the new church was ready. In 1966 Rev. R. R. Guthrie became the pastor, but health problems caused him to leave, and Rev. Glover was asked to take over again in 1966.
During Rev. Glover's years as pastor, a great deal of progress was made. The first Sunday school was organized in November 1964 with four classes. Rev. Glover was the church school superintendent, Mary Boyd was the first secretary, Eva Joyce Sivells was pianist for the church school. Reba Sisk and Belva Nichols from St. John came over as pianists for church.
Many fund-raising projects were held. Rev. Glover often said the church was built with barbecue. There were barbecue suppers and dinners, use-your-own talent projects, rummage sales and personal contributions which raised $16,000. People would attend the meals, and as they would leave, many of them would shake hands with Rev. Glover and leave money in his hand. (Of course, it was no accident that the seasoned minister knew where to be and who had money)
The first Woman's Society for Christian Service (now United Methodist Women) began in April 1965. This active group raised money for the new church, entertained District WSCS groups, promote missions, and led self-denial programs.
Rev. Don Benningfield was assigned by the Annual Conference in May 1967. Rev. Glover continued to work in the congregation. Brother Don and his wife, Pat and son, Glenn, became the parsonage family. A committee began the final plans for the new building. The Church was to cost $57,000, including furniture, parking lot and grass. On October 20, 1968, there was a cornerstone laying service led by Brother Don and Rev. Glover.

The first service in the new Christian Heights Methodist Church was held on November 3, 1968. Prior to the first service, communion and all-night prayer vigil were held. The formal opening and consecration service was on November 10, 1968. Soon after the new church was built a woman by the name of Inez Seeber drew a sketch of the church. Until the new addition was built Mrs. Seeber's artwork was printed on the front of the church bulletins. Brother Don started the first choir, Men's club, and youth group.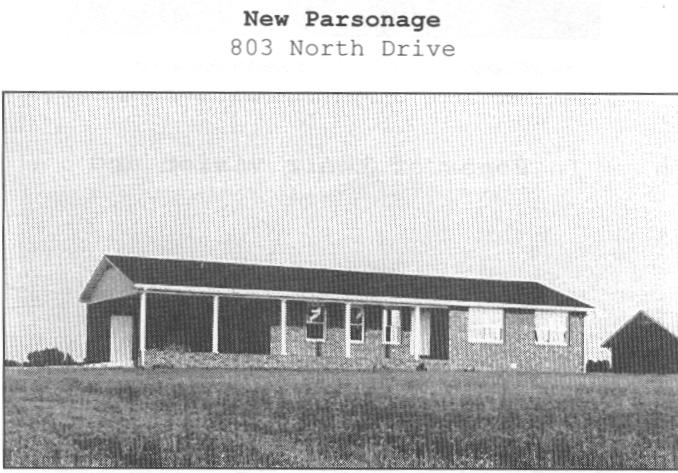 In August 1985 Christian Heights sold the original parsonage on Fairview Drive and the new parsonage at 803 North Drive was finished. Near the same time some land was sold from behind the church to the Masonic Hall.

In 1990 the church began building a wing to add a new pastor's office, library, multipurpose room, and additional classrooms which would include a nursery. The addition was made with a 25-year mortgage, just six years after the earlier mortgage was paid off. The church had set goals to pay this mortgage off in 10 years and with many dedicated individuals it well met this goal in December 1998.
The first church website was created on August 11, 2000. The initiative to begin the website was Rev. David Combs's. Eric Brake was selected to lead this new venture, while performing tasks such as updating the information contained in the website and deciding the design and layout. We hope to continue to use the website and the Internet at large as a powerful tool to spread God's message well into the future.
Christian Heights Ministers
| | |
| --- | --- |
| Fred M. Glover | 1964 – 1967 |
| Don Benningfield | 1967 – 1971 |
| Dee Woodruff | 1971 – 1973 |
| David Westerfield | 1973 – 1977 |
| Cliff Sparks | 1977 – 1981 |
| Bill Whitsel | 1981 – 1986 |
| Stephen McVay | 1986 – 1992 |
| C. Ronnie Young | 1992 – 1994 |
| Bob Dunlop | 1994 – 1997 |
| Hilda Bentley | 1997 – 1999 |
| David Combs | 1999 – 2002 |
| Larry Busch | 2002 – 2009 |
| Steve Latham | 2009 – 2010 |
| Marion Brown | 2010 – 2011 |
| E.J. Hatton | 2011 – 2014 |
| Brad Shuck | 2014 – 2016 |
| William Taylor | 2016 – 2020 |
| David Banister | 2020 – 2021 |
| Donna Williams | 2021 – Present |
Christian Heights "Firsts"
First Baby born to church Denise Sivells March 27, 1965
First couple married in church Dianne Johnson and Troy Deberry April 24, 1965
First Women's Society of Christian Service (would eventually become United Methodist Women) April 1965
First choir organized August 16, 1967
First Men's club October 29, 1967
First M.Y.F. (youth group) August 20, 1967
First person to join new church Pam Hester 1968
First person baptized in new church Bruce Davenport 1968
First infant baptized in new church Brinda Nell Futrell 1968
First infant born in parsonage and First minister's child baptized Mark Benningfield 1969
First children's choir January 17, 1970
First Good Friday Service 1972
First Chrismon (Christmas) tree December 1973
First previous pastor to die Rev. Dee Woodruff 1974
First female pastor Rev. Hilda Bentley 1997
First Church Website August 11, 2000
Charter Members
William B. Atwood
Carol Faye Atwood
Mary Brown Boyd
Lonnie Clark
Mike Clark
Yvonne Clark
Lila Combs
Arnold Cornelius
Judy Anette Cornelius
Freida Mae Cornelius
Carrie Lee Dennis
James Dennis
Bernice Futrell
Ruth Futrell
Robert Anthony Futrell
Andrew Ellis Futrell
Bob Ellis Futrell
Nell Wood Futrell
Bruce Glover
Burt Glover
Leon Glover
Marjorie Glover
Lillian Gates Glover
John Lee Glover
Paul Goodwin
Don Holland
Elinor Joan Holland
Rose Marie Kershaw
Wanda Lawson
Howard Gayron Lee
Carolyn Marie Lee
Dorothy Fuller McCargo
Frank Junior McCargo
Douglass Porter
Barbara Porter
Kaye Roberts
Glenn Roberts
Janice Sadler
Thelma Louise Sadler
Johnson Young Sadler
James E. Sivells
Eva Joyce Sivells
Bob Smith
Lynn Smith
Ima Lorene Young
Charles Wallace Young
Trustees – New Church Building November 1968
William Atwood
Rev. Don Benningfield
George Fuller
Bob Ellis Futrell
Rev. Fred Glover
S. N. Henninger
T. A. Litchfield
Johnson Sadler
"Christian Heights"
Lyrics by David A. Westerfield
Music courtesy of "Coca-Cola"
I'd like to God's love made real,
In every-one in town.
I'd like to see us helping up,
The people who are down.
I'd like to build a church in town,
And place it on a site
I'd put it high up-on a hill,
And call it Christian Heights.
I'd build it right on solid rock,
And face it toward the street.
I'd put a steeple on its roof,
So simple, yet so neat.
I'd pay some bills and meet the loans,
With good ole bar-be-cue.
Don't under-estimate the power
Of a com-mitted few.
We may be young and only ten,
With growing pains galore;
But Jesus took us where we were,
And this is where we are.
I'd like to see you join our group,
And join in all the fun,
Of serving Him who died for us,
Je-sus, God's on-ly Son.